Treat Cholesterol Issues
Ways to Treat Personally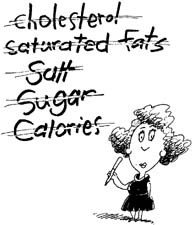 There are natural ways to treat high cholesterol other than taking drugs from pharmaceutical companies such as the cholesterol lowering drug Statin widely prescribed by doctors in the United States. Using drugs like statin come at a price with side-effects such as diarrhea, muscle pain, and low energy, and can include kidney failure and even liver damage. It may be a better and safer way to keep your LDL "bad" cholesterol levels low and HDL "good" cholesterol levels high is to start with exercise.
Low intensity walking has remarkable effects on controlling cholesterol even a tread mill or vibration walker machine can be a solution. Reducing your weight by 10 pounds causes the average cholesterol levels to drop about 5%. Of course, it's always good to cut back on sugars which include fruit, and drink alcohol moderately, as well as reduce caffeine and stop smoking cigarettes.
Taking these measures is very helpful but watching your diet and supplementing with vitamins is a crucial key to better health. The following suggestions are effective natural ways to help improve cholesterol that I have found in my research on cholesterol problems.
Niacin and Vitamin B Solutions
Cholesterol is being controlled by some people who personally use a diet low in fat and high in oat bran – plus daily doses of the vitamin niacin- vitaminB. I prefer niacin, a vitamin of the B-complex group, in preference to statin drugs, because 1) Statin drugs are expensive and 2) the long term effects of statin are not known. A doctor in a prestigious Viennese Clinic told me that last year.
Start by taking a daily multivitamin supplement with an additional 1,000 (mcg) of folic acid, 6 (mg) of vitamin B-6, and 500 (mcg) of vitamin B-12. The B vitamins "normalize" blood levels of homocysteine, – an amino acid that is as much a predictor of heart attack risk as is cholesterol.   Add Vitamin C and Vitamin E and Arginine (a powerful amino acid that gets converted to nitric acid which encourages the blood vessels to dilate for greater blood flow) to the diet. Check your cholesterol levels including your total and LDL "bad" cholesterol and HDL "good" cholesterol as well as your triglyceride levels. Aim to get your total cholesterol below 200 with an LDL level no higher than 100.
Quality safe sources of these are not to be bought over the counter any more so it becomes necessary to be very fussy about the sources of these supplements.
1. Multivitamin called Naturmin may help in repairing the body tissues and regulating fluid and hormone balances. It contains also vanadium(6mcg)phosphorus(111mg) selenium(6mg)calcium(167 mg)magnesium (67 mg)
2. B12Plus with Folic Acid mayhelp with risk of heart disease, memory loss and Alzheimers. This is an important combination for the heart health.
3. Arginine Plus which may help the blood vessels to dilate for greater blood flow
4. Aloe Vera Pure Gel which is full of amino acids and viamin C, E and can safely clear the plaque from the arteries
More Facts on Niacin
Niacin has been known to lower total and LDL cholesterol and triglycerides. Niacin also raises HDL and lowers the levels of two other dangerous particles – lipoprotein sub fraction alpha, or lp(a) cholesterol, and small, dense LDL cholesterol, both of which are especially prone to lodging in artery walls.
You could take niacin three times a day, one 500-mg tablet with each meal and have your liver enzymes checked every six months, since the high dosage required for cholesterol reduction can cause liver disturbances. Niacin can also cause flushing and heart irregularities so a doctor's supervision is needed.
Dietary Fats
To continue the reduction of cholesterol it is recommended that you reduce dietary fats and limit your total fat calories by 30 %. For example, reducing the amount of saturated fats you eat in foods such as butter, cheese, meats, and baking products and supplementing with fish oil can help lower cholesterol and triglycerides. Eating all the fish you want, especially fatty fish, with heart-protective omega-3 fatty acids is a healthy choice. Olive oil is a good oil to use but cut back on trans-fat commonly known as "hydrogenated" or "partially hydrogenated" fats such as vegetable oil.
Trans-fat raises levels of LDL "bad" cholesterol and lowers levels of protective HDL "good" cholesterol. Fast food restaurants which fry their products in hydrogenated fat are another source of trans fat. To reduce you intake of saturated fats, substitute avocados and nuts for meat whenever possible. Consume skim milk instead of low-fat milk products and remove skin from chicken and eat lean cuts of meat to help reduce dietary fats.
A good aid to reduce the body' s production of fats from the carbohydrates that are consumed is to get plenty of tamarind/ garcenia . It also reduces the appetite too.
Avocados can be a help
Avocados are rich in oleic acid, and mono-unsaturated fat which is a good fat. Avocados are known to help lower cholesterol. According to a study conducted by researchers from the University of Toronto, this type of fat found in avocados boosts levels of HDL ("good") cholesterol without raising levels of LDL ("bad") cholesterol.
Another study found that people with moderately high cholesterol levels who ate a diet high in avocados for one week had significant drops in total LDL cholesterol levels, and an 11 % increase in their HDL cholesterol levels.
Treat Bile with Oats
You can lower your cholesterol level hugely by eating oat or rice bran. When you eat one cup of oat bran or one and a half cups of oatmeal, the bran binds with the bile in your digestive tract. The bile is then excreted in bowel movements. Other foods high in soluble fibre, such as dried beans, raisins, prunes and aloe vera, as well as figs may all help eliminate bile. You can also take 3 Tbs of Metamucil daily.
Eating soy can yield another huge drop in cholesterol, by eating approximately 25 grams of soy protein a day. Aloe Vera can help rebalance blood chemistry which lowers cholesterol. A study that was done on Aloe Vera in Korea had very dramatic results reducing LDL by 40 – 80% and triglycerides dropped 20 – 70%. Products such as the Aloe Vera drinks from Forever Living can help not only with cholesterol rebalancing but it may also aid in restoring the immune system and replenishing lost nutrients.
Guggul
Guggul is an extract from the Mukul Myrrh tree, which is native to India. The Indian government was sufficiently impressed to approve guggul as a treatment to lower cholesterol. In one study scientists found that guggul both lowered cholesterol and also protected against the development of hardening of the arteries. In another Indian study, 40 patients with high cholesterol, who took a 25 (mg) supplement of Guggul three times a day for 16 weeks, cut their total cholesterol by an average of 21% and levels of HDL cholesterol rose by 35%. If you have high cholesterol, ask your doctor about taking guggul supplements.
Hibiscus
Chinese researchers found that the Hibiscus flower may help your heart in a similar way to red wine and tea, due to antioxidant properties that help control cholesterol levels and reduce heart disease.
They found rats fed hibiscus extract had lower levels of cholesterol in their blood. Experiments have shown that compounds extracted from red wine and tea reduces cholesterol and lipid build-up in the arteries of rats. This was the first study done to show that hibiscus extract has the same effect. Hibiscus is also used to treat hypertension and liver disorders.
For more information about these exceptional Aloe Vera products Click Here
I look forward to sharing further good health finds with you in 2012. Stay healthy focused.
Informations on this website are for educational purposes only. They are only my opinion based on my internet studies. They are not intended to diagnose, prescribe, treat or cure any disease or mental condition. Consult your licenses health care professional on all health concerns.