Vinpocetine is derived from vincamine, the major indole alkaloid of the periwinkle plant that we had growing in the garden .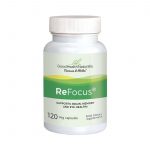 Vinpocetine has been used for many years in Europe to enhance memory and mental function.
It reportedly works by increasing neuronal firing rates.
Improvement of blood supply to the brain

Increase of oxygen and glucose use by the brain

Improvement of brain tolerance to hypoxic excitoxicity

Increase of vasodilation response to hypoxia

Increase of ATP levels in the brain

Reduction of abnormal coagulation of blood

Raising of brain levels of the neurotransmitter serotonin
Some studies with vinpocetine.
Dementia
University of Surrey in Guildford, England gave vinpocetine to patients suffering from mild to moderate dementia (Hindmarch 1991) every day for 16 weeks either 10 mg doses of vinpocetine three times a day, 20 mg doses of vinpocetine three times a day, or placebo three times a day. Statistically significant cognitive improvements were found
Chronic Cerebral Dysfunction
In clinical trial, vinpocetine was shown to offer significant improvement in elderly patients with chronic cerebral dysfunction. Forty-two patients received 10 mg vinpocetine three times a day for thirty days, then 5 mg three times a day for sixty days. Matching placebo tablets were given to another forty patients for the ninety-day trial period. Patients on vinpocetine scored consistently better in all cognitive evaluations. No serious side effects were reported.
Memory
12 female volunteers received pre-treatments with vinpocetine 40 mg three times a day or placebo for two days according to a randomized, double-blind crossover design. On the third day of treatment and one hour following morning dosage, subjects completed a battery of psychological tests. Memory was significantly improved following treatment with vinpocetine when compared to placebo.