My Good Health Naturally Favourites
ALREADY KNOW WHAT YOU WANT –
Use this link to purchase product from Good Health Naturally or Good Health Oz.  All other links on this page still to be updated.  Thanks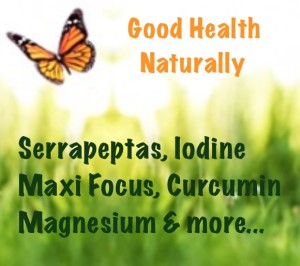 I find quite a lot of great products on this site.  My favourites would have to be the Serrapeptas products – SerraEnzyme, BlockBuster and Serranol which address various issues to do with inflammation and pain. Take a look at the blogs to learn more or go directly to the site by CLICKING HERE.  
OTHER GREAT PRODUCTS ON THIS SITE:
Nascent Iodine – thyroid, immune system, energy, detoxification, metabolism and much more.
Maxi Focus – eye, brain and body health, 23 super nutrients, 3600iu Vitamin D3, and perfect for those with digestive tract dysfunction.
Vitamin D3 – Immune System, Hormonal Balance, better Calcium and Phosphorus absorption, blood sugar regulation, regulating over 200 Genes in body and overall body health when sunlight is scarce.
CurcuminX4 – Pain & inflammation, Liver damage & disorders, Gallbladder problems, Digestive problems, Eye problems, such as cataracts
Magnesium – Ancient Minerals – Restores cellular magnesium levels, Acts as a cellular protectant, Supports detoxification, Relieves aches and pains, Improves mood and relieves stress, Encourages healthy skin tissue.
Serranol – Fibromyalgia, High Cholesterol, Poor Circulation, Declining Memory, Arthritis, Inflammation, Neuralgia, Allergies, Asthma, Weight Gain, Diabetes, Obesity, And More!
SerraEnzyme – Anti-inflammatory, pain reduction, swelling reduction, sinusitis, cardiovascular health, lung health, arthritis relief.
BlockBuster – Blood Pressure and Circulatory System, Lungs and Bronchial System, Digestive System, Eyes and Brain, Aging
YOU CAN FIND MORE INFO ON THESE PRODUCTS IN MY BLOG POSTS:
Anti-Aging Enzyme Action;   Digestive Disorders (Blockbuster);    What is Heartburn (Blockbuster);   Depression;  Hyperactive Thyroid & Asthma & Genuine Simple Solutions (Blockbuster, Curcumin, D3, Iodine, Magnesium) ; Miracle Enzyme & Inflammation (Serranol, Blockbuster, Serraenzyme); Serranol for Heart Happiness; What Does Vit D Do4U?; Fibromyalgia Friend (serranol); Diabetics Bathe in Epsom Salts for Magnesium flow; God's Thyroid Plan; Fukushima Radiation is Worse… there are many more posts on these products so take a look through my site and enjoy learning more about good health naturally.